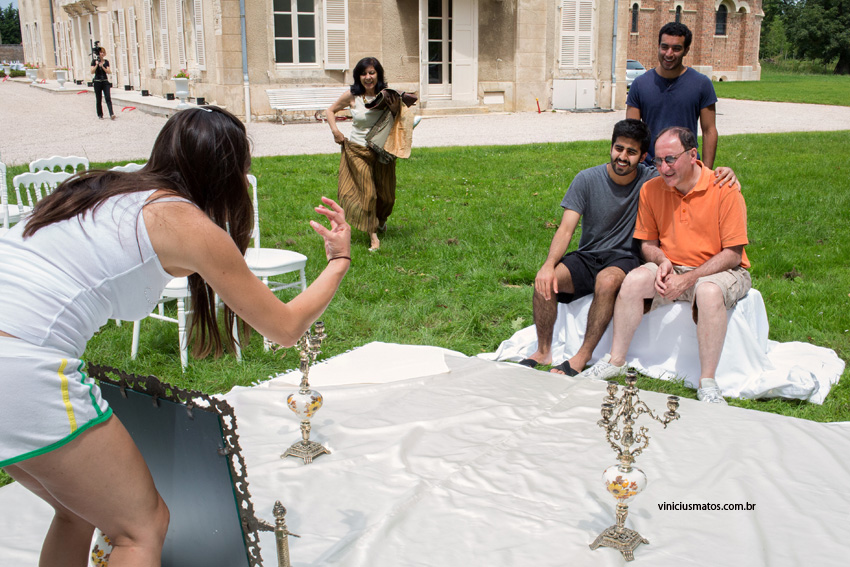 Stories are composed of micro stories. I photographed a wedding in the French region of Bourgogne, now in June. The couple Nasim and Shek agot married at Chateau de Varennes, a beautiful castle situated 80 km from the beautiful city of Dijon.
A wedding that lasted two days, being the first day to celebrate a Persian ceremony, as the family of Nasim is Iranian. In the second a very traditional Catholic ceremony, for Shek's family is from Ivory Coast. They are part of the royal family in this country.
In Persian tradition, an altar is set up on the ground with numerous persians delicacies and sweets. Furthermore, the bride and groom sit in front a mirror. That's right, a mirror is positioned so that they see themselves during the celebration.
This mirror has a story, it came from Iran just for the ceremony, and was also used in the wedding of Nasim's parents some good years ago. The interesting thing about this mini story was the commitment of their parents and relatives so that the mirror would reflect the two of them together. Tests, changes here, moving everywhere and finally, the altar was set up, lovely, waiting for the couple.
What motivates me each day more to photograph weddings from other cultures is just dealing with the new, unusual and different. This brings new energy to my work. By the way, this mirror gave us too much work!